FOR SALE-1947 CHRIS CRAFT ROCKET
$22,500.00
---
Yr Mfg -1947
Hull # - R16-681
Model - Rocket Runabout
Length - 16'
Engine - Chrysler Marine "ACE" 6 cyl. #M2B 1014
Prop - 7923
This beautiful classic boat is located in Hot Springs National Park Arkansas. It was previously part of a private collection where it was stored indoors for much of its' life. It is presently winterized and in bagged storage. Besides being an excellant watercraft for recreational use, this restored classic could be just the touch you're looking for to go with your antique or classic automobile. This Runabout comes complete with trailer and tows like a dream . If you don't want to tow it yourself, delivery is available.
For further information or to arrange a viewing please contact Mr. Larry Neyland at 501-624-1796 or you can email him at bgdddy4299@aol.com
Rocket History
The Special Runabout was not a runabout at all, but a deluxe utility with a wide center deck that created a separate forward cockpit. Called the ROCKET by Chris-Craft, these boats were nearly identical to the pre-war 16 Deluxe Runabouts which in turn were lengthened versions of the 1938 15-1/2 Deluxe Runabouts.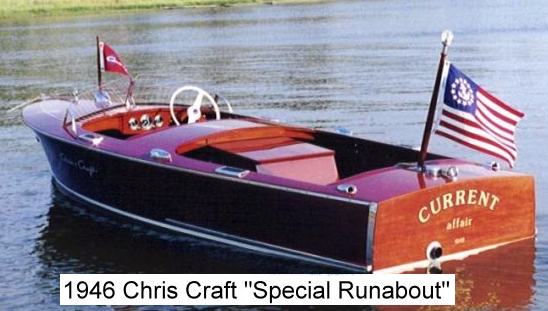 The Rocket was offered varnished or painted, with choices of white, black, red and blue sides. The painted hull allowed Chris-Craft to use more readily available cedar and kept costs down. Both Chris-Craft B and Chrysler 6 cyl. Ace engines were offered and the lightweight Rocket performed quite well with the Ace.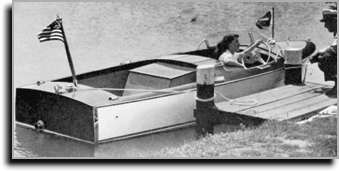 According to Chris Craft factory production records 1,040 Rockets were built from late 1945 through 1948 with only 40 boats being produced in 1947.
---
click on an image below to open a larger version in a new window